Technical Features
General Idea of the Cone Crusher
Cone crusher is used for crushing all kinds of ores and rocks with medium hardness or above-medium hardness in many industries, such as metallurgy, construction, road, chemical and silicate industries. It is very suitable for intermediate crushing and fine crushing of ores and rocks. There are by and large three types of cone crusher: symons cone crusher, hydraulic cone crusher and secondary cone crusher. When customers buy cone crusher, they can choose the suitable one taking into condition the ore or rock that the crusher will deal with. Cone crusher's features of large reduction ratio, high efficiency, low energy consumption and even granularity make it popular in the mining plant.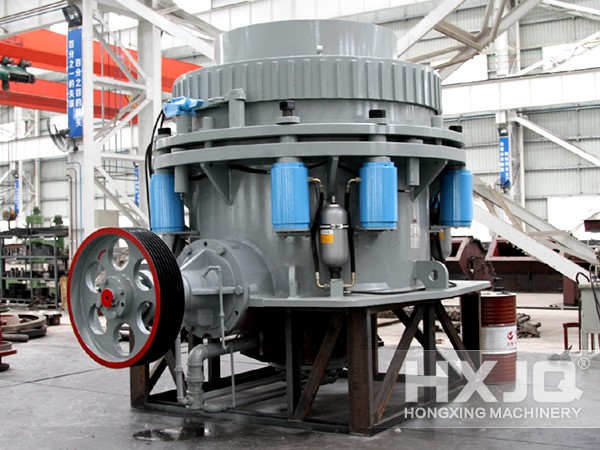 Application of Cone Crusher
Hydraulic cone crusher with high efficiency is suitable for primary crushing of many kinds of minerals and rocks whose compression strength not higher than 360Mpa, such as ore, concrete, fireproof material, calamite, quartzite, corundum, perlite, ironstone, basalt etc. Hongxing series hydraulic cone crusher is widely used in mining and construction, concrete factory, sandstone making industry.
Working Principle of China Cone Crusher
The hydro
cone crusher
is widely used for secondary and fine crushing in the fields of mining, chemical industry, building materials, metallurgy and so on. It can crush materials with Moh's scale in middle and high hardness such as ironstone, copper ore, limestone, quartz, granite, rock and so on. The standard type (PYB) is applied to secondary crushing; the medium type (PYZ) and the short-head (PYD) are applied to fine crushing.
When the Symons cone crusher is working, the motor drives the eccentric bearing bushing via spring coupling, transmission shaft and a couple of cone gear wheel. The crushing cone axis is forced to swing by the eccentric bearing bushing, which makes the mantle close to the bowl liner and far away from the bowl liner from time to time. The raw materials are pressed, impacted and finally crushed in the crushing cavity.
Major Characteristics of Cone Crusher
1) Trustworthy insurance system: The spring insurance system applied in this machine can adjust the size of discharge opening to make sure that crusher works safely.
2) Adjustable crushing chamber: The shape of crushing chamber plays a very important role in the whole machine's performance. The Cone Crusher has four kinds of chamber shapes. Customers can choose the suitable one according to their specific demands.
3) Easy replacing of chamber: There is no need to fill the reverse side of crushing wall with anything when installing a new crushing wall. It is fixed by bolts, which not only decreases the difficulty of replacing, but also increases the speed.
4) Simple operation: The cone crusher employed high-pressure resistant displacement transducer. When the operator wants to adjust the size of the discharge opening, he only needs to press the button on the operation board. In addition, the operator can see the changing process of the size. So, it is extremely convenient and precise.
Technical Parameters
Model
Diameter of crushing cone
(mm)
Max.feeding size
(mm)
Width of discharge opening
(mm)
Processing capacity
(t/h)
Motor power
(kw)
Swing frequency of main shaft
Total weight
(t)
Dimensions(L×W×H)
(mm)

PYB

600

600

65

12-25

40

30

356

5

2234×1370×1675

PYD

35

3-13

12-23

5.5

2234×1370×1675

PYB

900

900

115

15-50

50-90

55

333

11.2

2692×1640×2350

PYZ

60

5-20

20-65

11.2

2692×1640×2350

PYD

50

3-13

15-50

11.3

2692×1640×2350

PYB

1200

1200

145

20-50

110-168

110

300

24.7

2790×1878×2844

PYZ

100

8-25

42-135

25

2790×1878×2844

PYD

50

3-15

18-105

25.3

2790×1878×2844

PYB

1750

1750

215

25-50

280-480

160

245

50.3

3910×2894×3809

PYZ

185

10-30

115-320

50.3

3910×2894×3809

PYD

85

5-13

75-230

50.2

3910×2894×3809

PYB

2200

2200

300

30-60

59-1000

280-260

220

80

4622×3302×4470

PYZ

230

10-30

200-580

80

4622×3302×4470

PYD

100

5-15

120-340

81.4

4622×3302×4470
General Inquirey Form
Need anything like more specific information about this product or the price of this product? Please fill the following form, and we will contact you within one business day, and all your information is kept confidential and is not shared with any third parties.
Articles Related to Cone Crusher