Technical Features
Common Sense of Sand Maker
The
sand making machine
produced by our company can provide you with all-around technical supports. The whole line is consists of vibrating feeder, jaw crusher, straight centrifugal crusher, vibrating screen and belt conveyor. According to specific requirements, we can combine different models together to meet various needs. HX series impact crusher is a high-efficient rock crushing machine at international leading level; the machine introduces the crushing theory and technology from Barmac Company of America and combines the actual situation of sand making.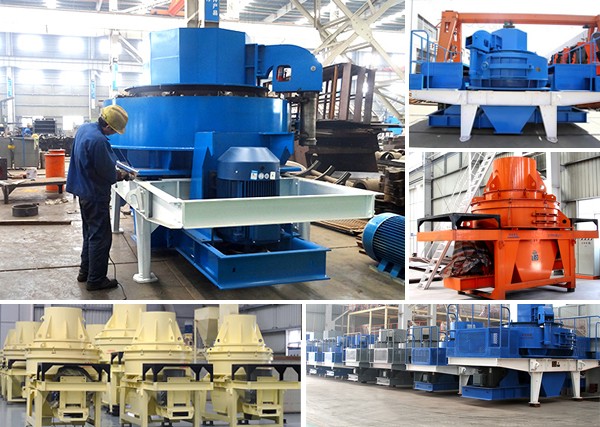 It is widely used for crushing of hard and brittle materials, such as rock, grinding material, refractory material, cement clinker, quartzite, iron ore and concrete aggregate; and it is especially suitable for the sand and sandstone making for construction and road paving.
Working Principle of Sand Making Machine
Stone less than 50mm enters sand making machine through conveyor belt. Stone is crushed by hitting other stones. Material falls down to impeller cavity. Under great centrifugal force, it hits material that coming downwards. After hitting each other, they force a vortex between impellor and shell, and hit each other several times. Finally, smaller stone comes out and goes to vibrating screen. Satisfactory material is transported to sand washing machine. Overlarge material will go back to sand maker to be crushed again. Output sizes can be made according to customers' requirement. If input size is larger than the designed size, other crushing machines will be necessary.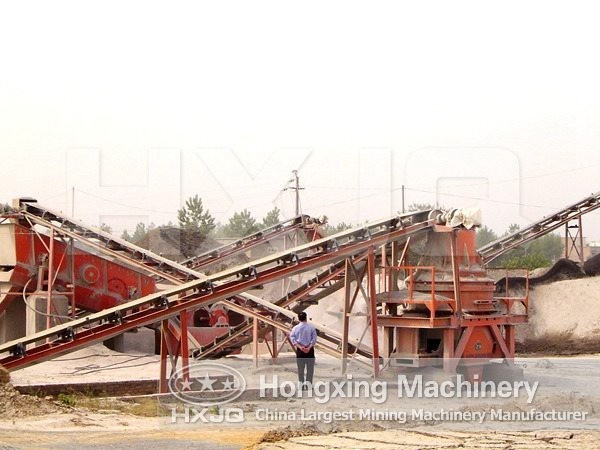 Characteristics of Artificial Sand Maker
1. VSI sand maker or sand making machine is a new type rock crushing machine developed in the 1990s and is used for substituting roller and ball mill.
2. The structure is simple and the operation is stable;
3. Low energy consumption, high output and big reduction ratio;
4. Small bulk, convenient operation, installation and maintenance;
5. The sand making machine is in the cubic shape with small iron pollution;
6. During the process, the stone rock can form a protective bottom layer which makes the equipment more durable;
7. Some easy wear parts adopt hard and wear-resistant materials and have small bulk and light weight, so that it can be changed easily.
Technical Parameters
Model
specification
Max.feeding
size
(mm)
Power
(kw)
Rotation
speed of
impeller
(r/min)
Capacity
(t/h)
Overall
dimension
(L×W×H)
(mm)
Total
weight
(kg)
HX-06
35
37-55
2000-3000
12-30
2500×1620×2600
5600
HX-07
45
55-75
1500-2500
25-55
2700×1760×2800
7600
HX-09
50
110-150
1200-2000
55-100
3900×2000×3070
12600
HX-10
60
150-180
1000-1700
100-160
4600×2350×3450
17300
General Inquiry Form
Need anything like more specific information about this product or the price of this product? Please fill the following form, and we will contact you within one business day, and all your information is kept confidential and is not shared with any third parties.
Articles Related to Sand Maker