Technical Features
Sand Washer
Sand washing machine is sand washing plant, mainly used for removing dust in the ore. Impurity and dust are removed in the artificial sand production process. According to its shape, sand washing machine can be divided into spiral sand washing machine and bucket sand washer.
Bucket sand washer is simple in structure and easy in operation. The impeller driving bearing device is isolated from water, avoiding damage of bearing device due to its immersion in water.
Screw washing machine is mainly used at construction site, and hydropower station for classification and dehydration operations of the small particles.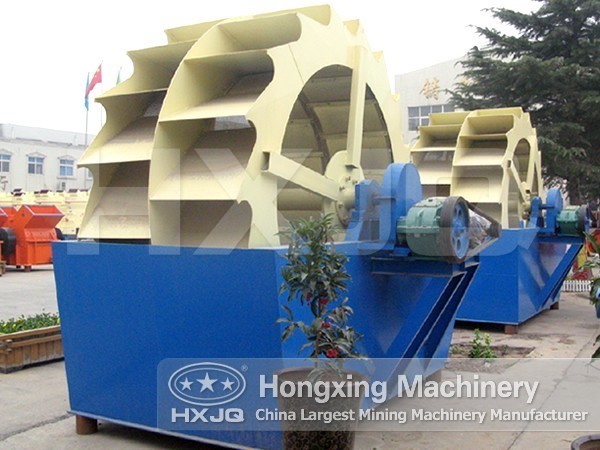 Recent Study of Sand Washer
Sand washing plant, also called sand washer is widely used in the construction site, sand stone factory, the construction site of concrete dam of a hydropower station, concrete pre-cast parts factory, oil-well refilling and other industries.
As a professional sand washer supplier, our sand washing equipment is of high efficiency. Our artificial sand washer has adopted advanced technology and combined with the real situation of sand line. The mineral sand washer has simple structure and it is easy to maintain. And also our sand washing machine has the characteristics of durability, saving water and no pollution.
Our sand washing machine is widely used in building-site, gravel factories, hydropower station and concrete dam site, post and electric pole factory, casting-70 sand, glass factory's quartz sand and dehydrating for pressure sand used in oil well's refill.
Sand Washer Features
1. The sand washer has high washing cleanliness and causes no pollution or little sand loss during the washing process.
2. Designed with rational structure, novel seal structure, totally enclosed oil bath type gearing and adjustable overflow weir plate.
3. Very little medium sand, fine sand and stone powder loss during the washing process. The grading and fineness modulus of building sand washed are all up to industrial standard.
4. Handling capacity is great and power consumption is low.
5. The sand washer saves water resources and causes no pollution. It is quite durable.
6. Easy to maintain and convenient to operate.
Sand Washer Applying Field
Sand washing machine is used to remove the dust in sand. It aims at improving the quality of sand. The materials include the requiring gravel in building-site, gravel factories, hydropower station and concrete dam site, post and electric pole factory, glass factory's quartz sand and refilling pressure sand, etc. The original sealed structure and the reliable transmission device ensure the good dewatering effect after washing. Therefore, it's an efficient sand washing machine used together with the sand making machine. This series of washing machine is arranged with a slant angle of 15°.
Technical Parameters
Specification

XS2200

XS2600

XS2900

XS3500

Wheel bucket diameter
(mm)

2200

2600

2900

3500

Rotation Speed
(r/min)

1-2

1-2

0.8-1.5

0.8-1.2

Processing capacity (t/h)

15-30

20-50

50-100

120-200

Motor power
(kw)

4

5.5

7.5

11

Total weight
(kg)

4300

5600

8100

9900

Dimensions (L×W×H)
(mm)

3150×1910×2280

3520×2390×2690

3820×2640×3200

4420×2930×3800
General Inquirey Form
Need anything like more specific information about this product or the price of this product? Please fill the following form, and we will contact you within one business day, and all your information is kept confidential and is not shared with any third parties.
Articles Related to Sand Washer